Sweden
Coworking's Strong Comeback in 2022 and Predictions for 2023

According to the latest coworking market data published by yta.se, 2022 emerged as a powerful year of recovery for coworking, driven by major shifts in how businesses perceived office space post-pandemic. Preliminary figures from coworking providers' annual reports for 2022 revealed the largest increase in revenue yet. This growth was accompanied by a surge in new spaces in Stockholm, with 32 facilities covering over 60,000 square meters unveiled throughout the year. However, this rapid growth led to a drop in occupancy rates from a peak of 85% to 69% within Stockholm's toll boundary.
Where does the market stand in 2023? As we continue through this transformative phase, early signs suggest that 2023 could be the biggest year for coworking so far. A promising indicator is that despite the record number of establishments in 2022, occupancy rates are rebounding towards their highest levels. In January, most operators experienced a substantial 12% rent increase, most of which was passed on to the end customer. Furthermore, the pace of new openings has slowed, driven by a handful of providers expanding their premises, while many focus on profitability. yta.se has also noticed a growing appetite for coworking solutions among customers, with larger companies increasingly looking at flexible office spaces.
---
"As we continue through this transformative phase, early signs suggest that 2023 could be the biggest year for coworking so far."
---
Though the coworking sector has grown significantly, it still represents a small fraction of the total office market, just under 5%. Current 2023 data indicates that we might witness continuous strong growth for coworking as a preferred office solution this year, taking another step towards a more flexible office market.
Occupancy Rates Rise Across All Regions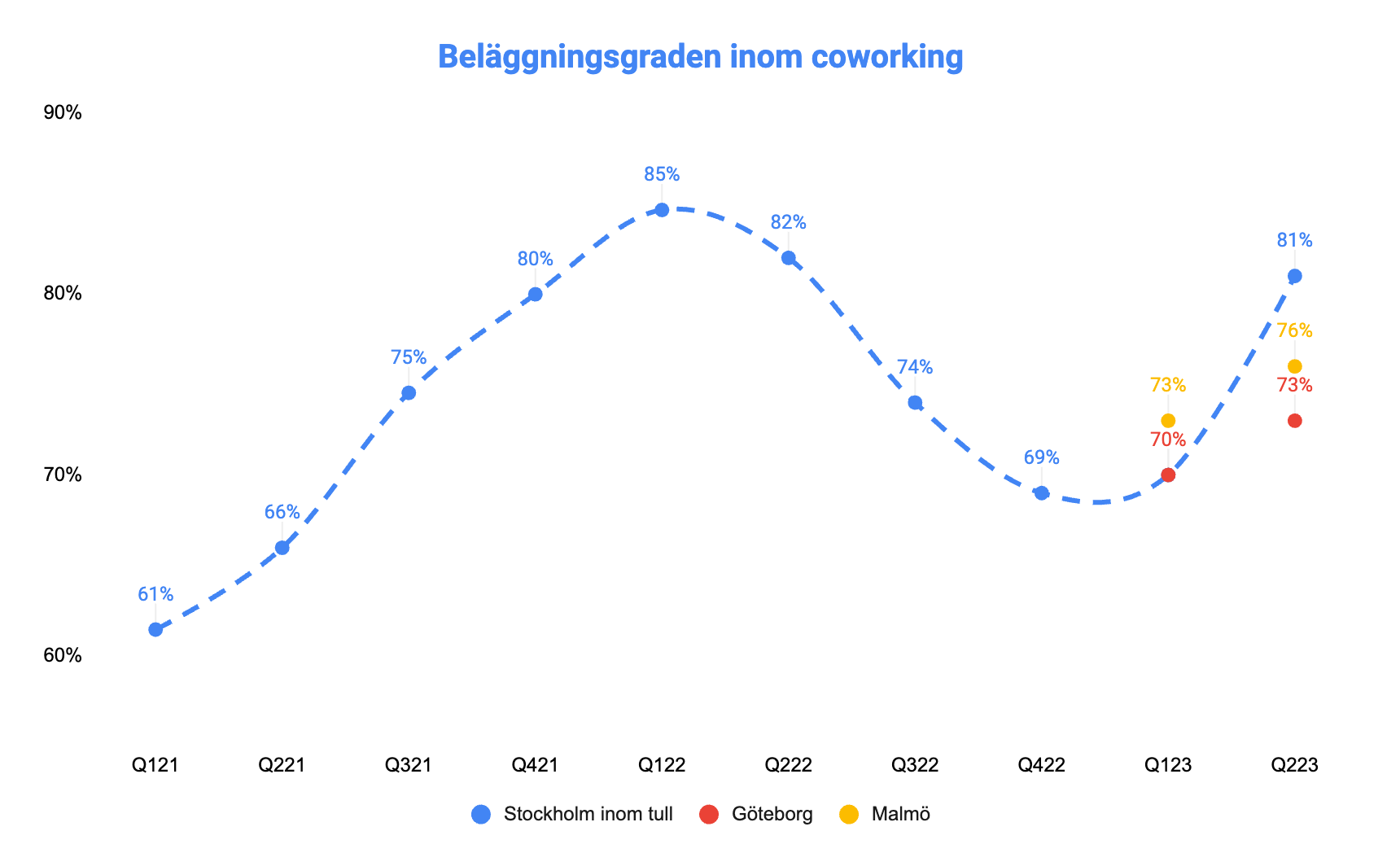 According to yta.se's data on coworking occupancy, Q2 saw a marked increase in occupancy rates for Stockholm, Gothenburg, and Malmö. This data spans over 115,000 square meters of space with up-to-date vacancy status in yta.se's database. As always, this measures vacant office space square meters against the total lettable area, excluding lounges and meeting rooms.
In Stockholm's Central Business District, the occupancy rate jumped to 82%. Areas within the toll but outside the CBD marked 81%, while areas outside the toll boundary recorded 65%. Historically, when the rate crosses 80%, operators have reported a shortage of spaces, triggering an appetite for more openings. It remains to be seen if this will influence the pace of expansion.
Meanwhile, Malmö and Gothenburg also showed rising occupancy rates of 73% and 76%, respectively.
A Decrease in Planned Establishments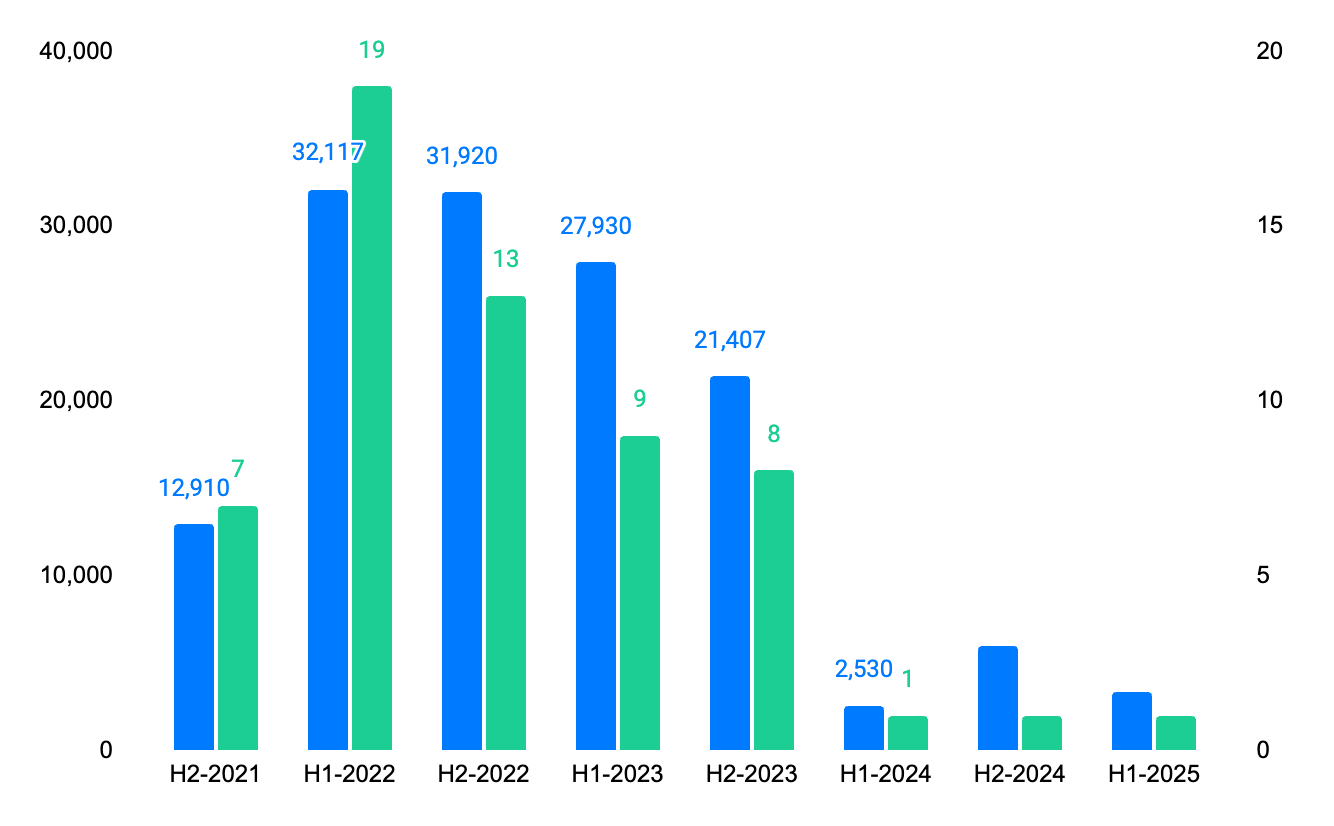 In 2022, Stockholm witnessed the opening of 32 new coworking facilities, spanning over 60,000 square meters. The first half of 2023 still saw a high rate of establishment, with 9 new launches covering 27,930 square meters. However, the future seems less aggressive, with only 9 facilities and a total of 23,937 square meters planned for the next 12 months, significantly less than the trends seen in past autumns.
New openings in Stockholm Q2 2023
iOffice Olof Palmes Gata 11 | 4 100kvm
Regus Barkarbystaden | 1 200kvm
The Works Solna | 2 500kvm
The Works Klarabergsgatan | 2 500kvm
New openings in Stockholm H2 2023
C/O Bredden | 1 639kvm
Convendum Drottninggatan | 4 000kvm
Convendum Sundbyberg | 4 120kvm
Fabege Arenastaden | 1 436kvm
Helio Sveavägen | 2 300kvm
Helio Gamla Brogatan
Spaces Gamla Stan | 3 000kvm
Impressive Revenue Growth in 2022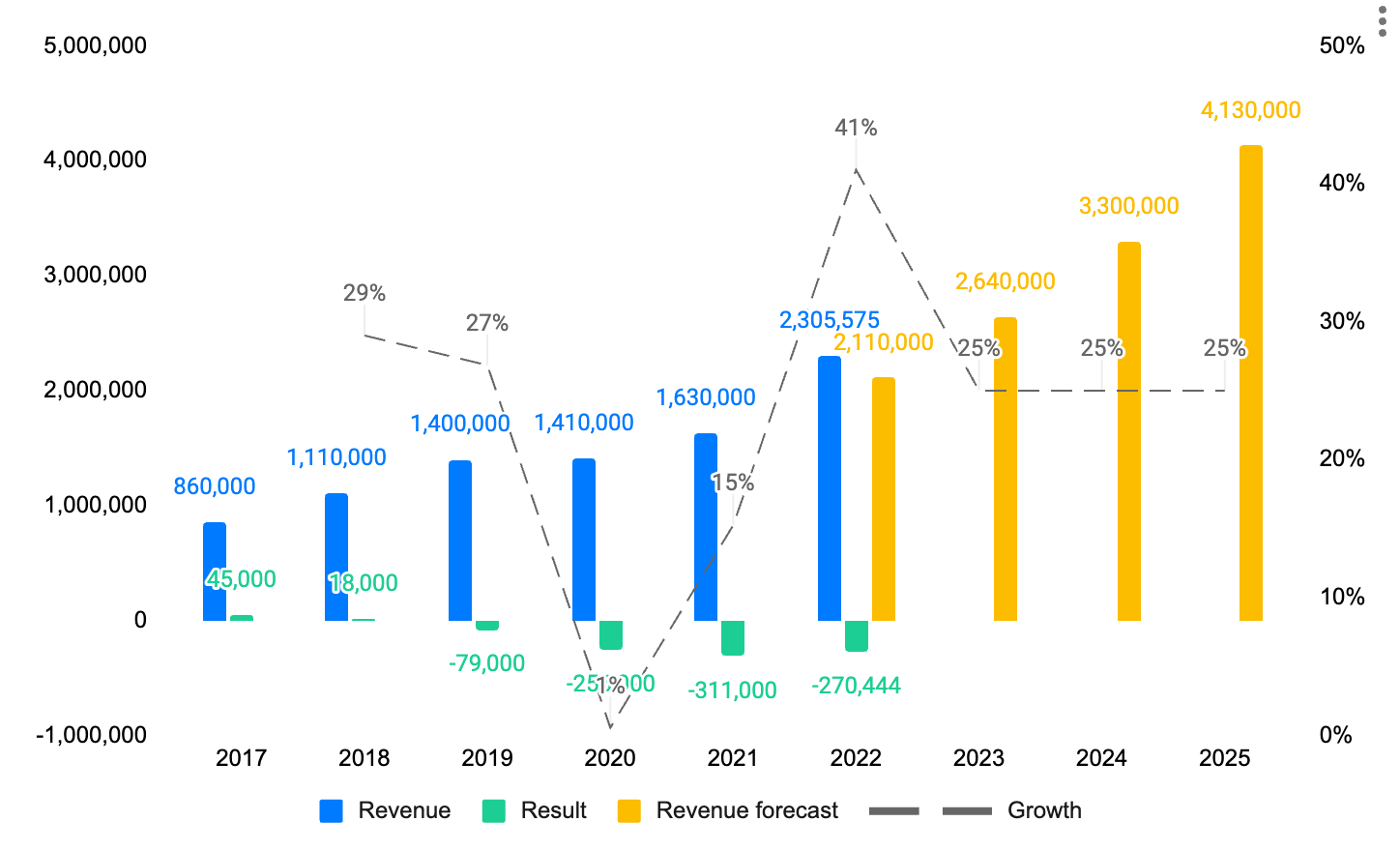 Preliminary figures highlight an impressive 40% revenue growth in 2022. Currently, approximately 70% of the annual reports for 2022 have been submitted, and the results are extraordinary. These reports indicate a collective revenue increase of 41% in 2022 compared to 2021.
Last year, yta.se projected revenues of 2.1 billion SEK for 2022, a prediction that now appears to be quite accurate. The final figure will be confirmed once all reports are in, but growth may slightly decrease.
On the bright side, while revenue surged by 40%, the profit margin improved from -19% in 2021 to -11% in 2022. This change suggests many operators are shifting their focus from growth to profitability.
More Players Enter the Scene
The past year also saw real estate owners ramp up their investments in the flexible office market. Companies like C/O, Firstoffice, Fastoffice, and Easyoffice are all betting on growth with their appealing office hotels. Fabege is entering the game with CoW, a coworking space in Arenastaden and offers turnkey offices. Meanwhile, other property owners are exploring ways to join the market. As the sector grows, we can expect more and more players vying for a position in the value chain.