operator-convendum
An In-Depth Interview With Oscar Limbäck Regarding Convendum Enterprise
As coworking continues to grow in the Nordics, one thing is for certain, everybody is vying for larger and larger tenants. An inevitable fact if coworking is set to grow from 5% to 30% of the office market, as there simply aren't enough smaller companies. One could make the argument that the market is quite saturated already within the segment of 1-10 person teams, as today it's become the norm for teams of that size to choose coworking.
For that reason, we thought it would be fun and inspiring to shine a spotlight on what different actors are doing in their chase for bigger deals. As new ground is broken operators are forced to think outside the box and push the boundaries of their products, their sales process, and even what coworking is. Convendum, Sweden's by far largest coworking operator, has the best track record so far in catering to enterprise teams.  To top that off, they recently made a big splash by breaking the news that they signed a contract to provide office management services for Klarna, in Klarna's own office.
Today we sit down with their COO Oscar Limbäck to discuss an exciting new product line, something we haven't seen a coworking operator do in Sweden, namely the launch of Convendum Enterprise.
Later on in the article Oscar dives into the details of Convendum Enterprise. For now, it's enough to know that their launch includes 3 products:
Convendum Enterprise Office Management - Convendum services enterprise clients in their own offices
Convendum Enterprise Memberships - Enterprise clients can purchase Convendum memberships by the hundreds
Convendum Enterprise Consulting - Consulting services regarding how to best utilize the office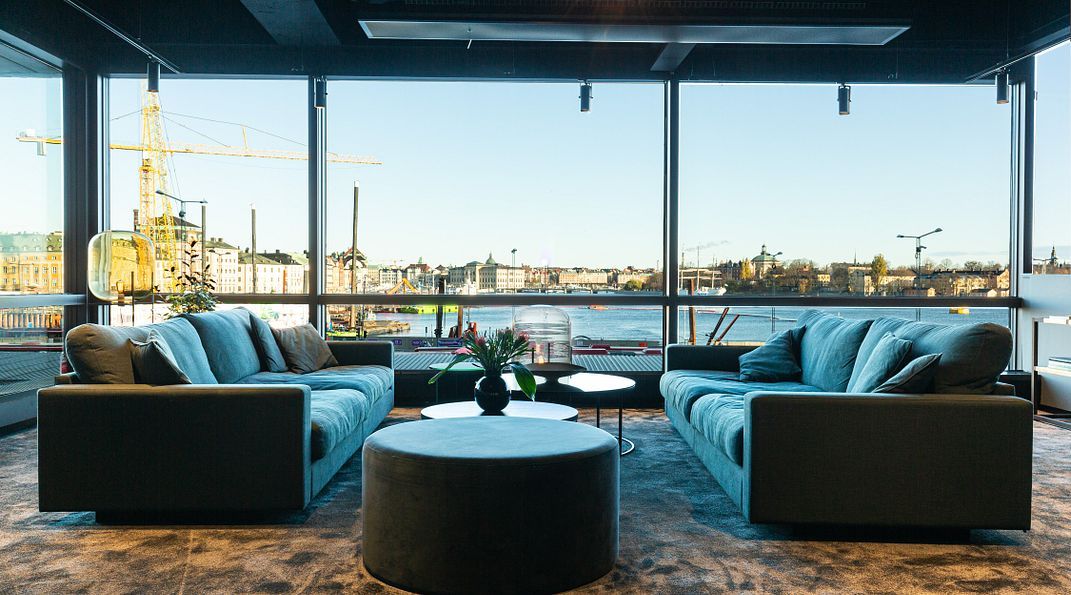 Has Convendum been dominating the large team game?
Since their inception Convendum have taken on large projects, enabling them to build products suited for large teams. Combined with a serious sales and marketing effort they have had the prerequisites to cater to larger teams and have successfully executed on doing so. When speaking to Oscar, we began listing the larger brands they have had as tenants over the years, the list quickly became quite long. In total, Convendum has currently has over 40 Big Offices, not necessarily all leased out, and has had several clients with market caps exceeding 1BSEK.
Even though we don't have the specific numbers, from our quick chat it's anecdotally clear that they have been a large player in the space . There are of course impressive large client lists from other operators as well but none that match the breadth Convendum has achieved over the years.
We asked Oscar what his view on why Convendum has had such success within the segment:
"CONVENDUM has always prioritized delivering a high-class service and offering a premium experience to our members and visitors. We have also noticed that our flexible contracts have been appreciated by our member companies. We want to be the premium provider that helps people and companies to grow and by that enable their success."
How Klarna Grew With Convendum
In 2019 Convendum was contacted directly by Klarna, who wanted to know more about how Convendum could help Klarna with it's aggressive expansion plans. Since that day Oscar has been Klarna's point of contact at Convendum and personally seen to all the huge deals that would come of that relationship.
It started with Klarna moving a larger team to Convendum Gävlegatan in 2019, down by Hagastaden. The solutions were full floor - making it easy to keep things private. Not long after Klarna expanded with considerably more space in the building.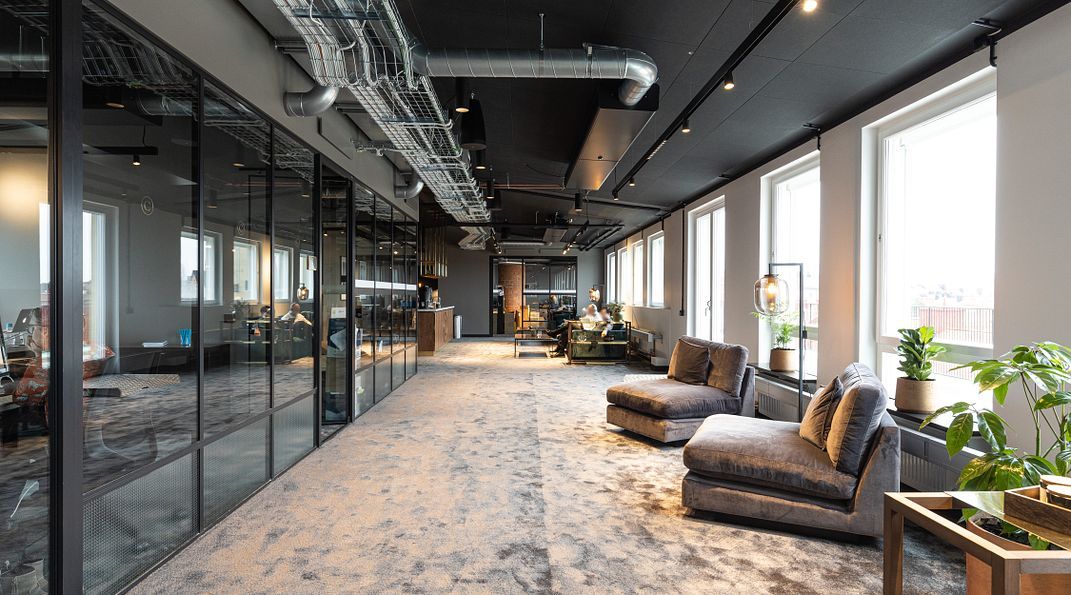 Oscar says that the driving force for these first deals was that Klarna had experience from coworking in other markets and wanted to try it out in Stockholm, simultaneously as they had large needs for more space.
They liked the flexibility and the hassle-free experience.
After that the now famous story of Klarna leasing an entire building from Convendum happened, a historical deal where Klarna acquired 5800m2 on Sveavägen 38. As it happens, Klarna decided to massively downsize their real estate footprint in Stockholm and never moved into the space. As of today the building is empty and the two companies are collaborating on finding other tenants to fill the space.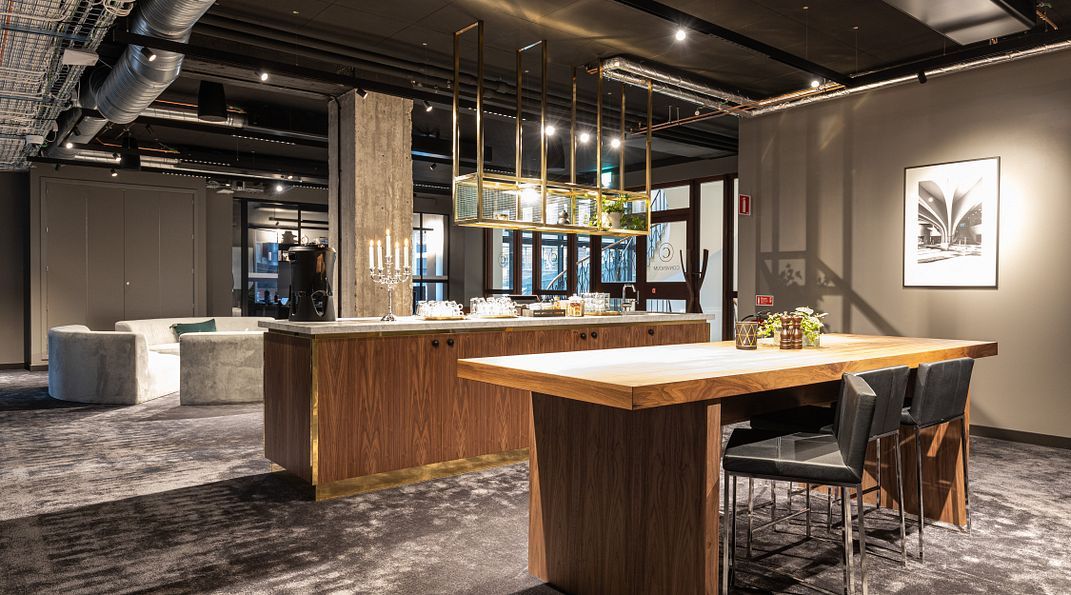 Convendum Enterprise First Deal - Servicing Klarna's HQ
In the wake of the above a deal was struck - Convendum and Klarna agreed on a deal that would lead Convendum into new territory, the office management market. Starting on the 1st of September 2023, Convendum will be responsible for the facility management of Klarnas offices at Sveavägen 46.
So what does that mean? Oscar goes on to list the actual services that they have contracted with Klarna:
Reception and concierge services
Breakfast
Upkeep of conference rooms and common areas
Convendum has taken over vendor contracts and secure the delivery of coffee, fruit and more
Convendum provides a location manager who is on site
Klarna employees have access to other Convendum locations and meeting room facilities
In total Convendum will have a team of 8-9 people dedicated to servicing Klarna. Convendum dedicates this team to Klarna, and does not mix and match with personelle from other locations.
Why Convendum? The Bet is to Combine Service with Physical Locations
Oscar tells me that the most prominent feedback they receive from guests - not just tenants, is how outstanding the service is. Everything just works. Oftentimes from representatives of larger companies that are just there for a conference. With over 8 years of operational experience from building and managing offices, why shouldn't they be great at it?
Even so, you might be wondering why Convendum should beat established actors such as COOR and ISS. You might also be aware that similar concepts have been tried and launched by international coworking operators such as WeWork, who launched WeWork Facilities Management for Enterprise in 2018. Oscar's point is that on top of being really good at the product, a key differentiator compared to traditional facilities management companies is the ability to offer access to Convendums actual physical locations across Sweden.
What does that mean? Well, the pitch becomes that not only can you be relieved of the headache that is taking care of the office, but you can also provide your employees access to over 70 000sqm of additional space, essentially tying the client into the Convendum world without them becoming a tenant. Oscar doesn't delve into the details of how this would work financially, but it does seem to provide an opportunity for enterprise clients to keep footprint lower than without this additional access. Lastly, Oscar states that they believe that they can offer a cost-neutral alternative thanks to their scale effects.
What about the other new products?
On top of facility management Convendum has also launched membership and consulting offerings for enterprise clients. Enterprise membership is newly launched and does not have any clients yet, and consulting is up and running with a handful of clients. Consulting is a free service where Convendum wishes to have dialogues with larger clients about their office needs and advise them, much as larger landlords often do with tenant advisors who are supposed to be in the know of hot office trends.
The point of Enterprise Memberships however is to provide access to Convendum's large network of locations. The thought being that Convendum's centers will serve as additional space on top of the client's HQ, close to their employee's homes or convenient locations in the city center.
As we talk about this concept I ask why hasn't this taken off already? Nothing has stopped Convendum or other operators from offering this before, in practice it's just helping large companies and their coworkers with memberships that increases their flexibility and access to the Convendum system with about 20 coworking spaces. There have also been several quite aggressive attempts by the many pass companies that try to offer memberships that span across many operators.
Oscar says Convendum has chosen to focus on their own product, because they believe their network of locations to be strong enough to serve clients solely themselves. He also theorizes that they simply haven't put the effort into trying to sell this product to larger companies. Maybe he's right and the market just isn't there yet, or maybe there just isn't an appetite for going to an office without your colleagues. One thing is for certain, if this market would open up it's a massive shift in the target audience for the industry.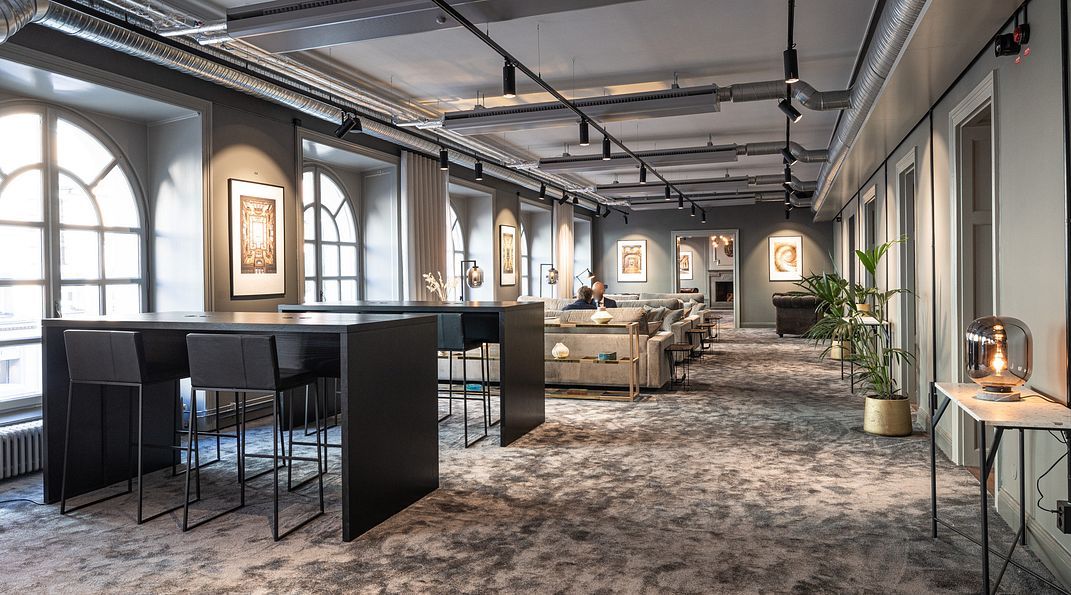 Where is Enterprise in 1 Year?
As impressive as it is that Klarna has given Convendum the keys to their office - on the face of it that is what has happened so far. How much does Convendum believe in this segment, is it a serious part of their future business? Oscar seems to think so, and when pressed on where they will be in 1 year he answered:
"We aim to have several more office management clients within one year. It's a service we see great growth potential in. CONVENDUM is the first coworking operator to enter the Office Management market in Sweden."
To reach this goal Convendum has dedicated a new department and marketing resources towards Convendum Enterprise. In the short term, Oscar is determined to land a new client before the year's end. Is this a new venture? Yes. Is it unclear where it will be in 1 year? Yes. Does Convendum have the prerequisites required to pull this off? Yeah, and probably the best position to do so in Sweden.
Ending thoughts
Oscar laughs when we talk about the goals and the prospect of revisiting the quotes in a year. We end the talk on a positive note regarding how getting more operators to talk about their efforts to court larger clients is essential for the industry to evolve. As different operators iterate and try new things the industry will carve out new niches, some will be copied, but in the end there's a lot of market going around for everyone.
Frankly, the coworking industry for once has a lot to learn from the traditional office industry who have been serving the needs of corporate giants since buildings where born. It's a bit ironic that the term that has become vogue, Big Office - used not only by Convendum, is probably not at all what the enterprise client sees in the coworking alternative but rather a term coined from the perspective of usually dealing with smaller clients.
Large clients demand complex deals built on high amounts of customization and intricate deal structures, far away from the simple premise of leasing a private office in a shared space. Hopefully the market can align incentives to combine these two perspectives and sets of experience in the years to come, where coworking operators and landlords work together to create the office market of the future.
---
Stay tuned for more articles regarding large coworking solutions as Nordic Coworking focuses on the topic during this fall.