Sweden
Susanne Lindquist to Drive Profitability for 7A

Swedish version of the interview at the end
Almost exactly one year ago, Susanne Lindquist assumed the role of CEO at 7A, after having worked as the CFO at 7A since 2021. Susanne has a background in finance and a master's degree in economics from Stockholm University. She worked as an auditor and consultant at Ernst & Young for ten years before seeking a new professional challenge and taking on the role of CFO at Transcendent Group, which was on a growth journey with the goal of going public.
– I believe that's what defines my career choices; I enjoy the challenge of working with growth companies. It's exciting and fun to be part of a journey where no two days are the same. I worked at Transcendent Group for seven years, during which we expanded into Europe, dealing with legal, financial, and structural challenges. The pandemic accelerated our transition to coworking by converting some of our conference spaces into offices. The other reason was that on December 1, 2019, we opened Posthuset on Vasagatan with 17,000 square meters for rent. So, the pandemic had a significant negative impact on our company.
After the pandemic subsided, 7A had a very strong 2022 with a revenue increase of 56%, while the results improved from -79 million SEK to -57 million SEK. The opportunities to increase revenue had already been created, and now they were gaining momentum. The industry was mature, and the demand for office space suddenly returned. Despite everything, the pandemic brought something positive to the coworking industry – the market was now mature, and many companies, both existing and new, began to see the benefits of coworking. Facilities started filling up with tenants, and work towards profitability began.
Read yta.se's report on the turnover increase in the coworking industry in 2021
– Our current plan is to achieve profitability by spring 2024. It's an ongoing effort where we examine the entire operation and explore how we can create a product that is attractive and relevant to our customers. This is something we've been working on since last autumn, dedicatedly and intensively. We've reviewed everything from our organization to our internal platforms and processes, and this spring, we focused on our brand and positioning. Our vision to create an experience beyond expectations for everyone entering our facilities remains unchanged. This is what everyone at 7A strives to achieve every day. It's worth noting that we are one of the first players in coworking in Stockholm, which gives us significant knowledge and expertise in our industry that we continue to build upon.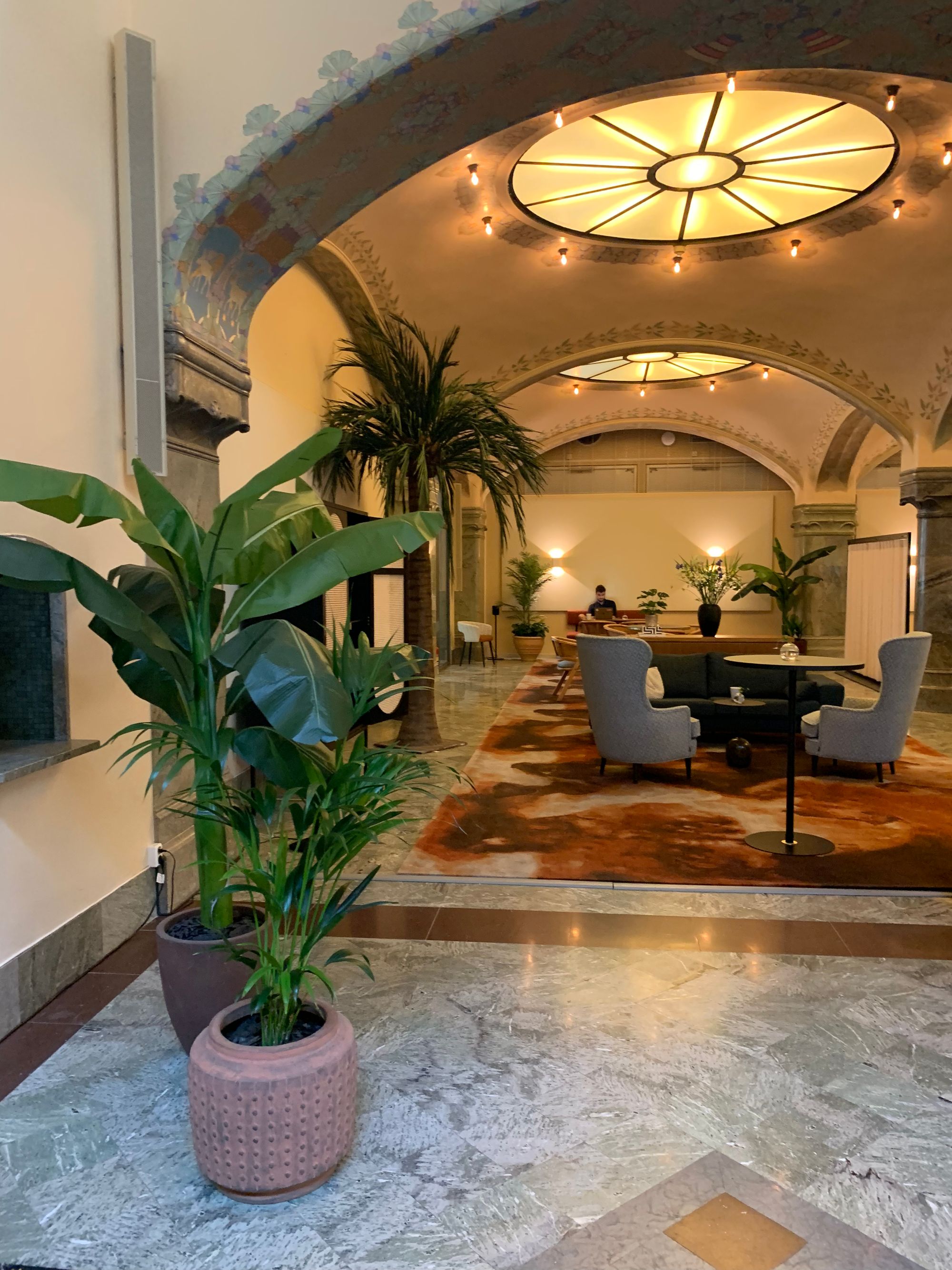 Unfortunately, 2023 won't be the year 7A achieves profitability, but they are well on their way with continued growth, and break-even is close. 7A is a company focused on growth, which means they will open more facilities in the near future. Since their inception in 2006, they have opened four facilities and never closed any. Their business is built on long-term relationships with both property owners and customers.
– All our facilities are currently located in city-center locations, and any new facilities will also be in city locations. Companies that lease space from us should be attractive employers at addresses convenient for their employees to reach. This is even more important today when many people work from home most of the time. The city will always be attractive.
Flexibility is the key to success
Being flexible and responsive to their customers' needs is a key factor in succeeding in this industry. Customers today have entirely new needs, such as meeting rooms and various types of social spaces. 7A makes adjustments based on these needs. One noticeable trend is that many companies are leasing offices with fewer workstations than they have employees, given the normalized practice of remote work. This is precisely what we, as a coworking provider, can offer.
– We want to make life easier for companies and their employees. It's crucial to listen to your customers and tailor your offerings. This could range from dog sitting to buying flowers for Friday, but also arranging meetings, larger conferences, and private parties. We believe in creating partnerships with relevant entities that add value to our customers/tenants. It's not just about offering office workstations; there's so much more to add to that.
A female-dominated company
7A has always had many women in its management team and throughout the company. There is no explicit strategy for this; it has happened organically because the service industry is female-dominated, and many in coworking come from the hotel and conference industry. However, the leadership team is predominantly composed of women, and there are also three women on the board.
– It's fantastic that there are so many women at 7A, but I still believe in balance. It's great to have driven women, and it's wonderful that, for once, it leans towards the female side instead of the usual imbalance.
7A also actively focuses on environmental sustainability. Their customers have high expectations regarding environmental issues, and more people are aware and want to know their environmental footprint as tenants at 7A. It's a high priority, and they strive to make their coworking facilities as sustainable as possible. The conference part is Swan-labeled, and the coworking product is inherently sustainable because multiple companies share resources in the facilities. However, ongoing collaboration with property owners is required.
– As an actor in this field, we are a significant asset to property owners because we care about their properties, invest heavily in them, and create value for their properties, unlike a "regular" tenant who rents for a few years and then moves out.
Added services to find profitability
Historically, the coworking industry has had relatively low profitability with many losses, but I believe we will see a change in the future. Many property owners are starting their own coworking facilities, creating competition that many players view positively. The coworking market is evolving, and the product must be adapted based on the needs of tenants/customers.
– The industry has grown very rapidly, and everyone faces profitability challenges. We went through a pandemic and now, this year, high inflation. We've had many different challenges in recent years, but it's still a very interesting industry that continues to grow. Profitability comes from successfully developing the product, where we also add various types of relevant ancillary services that create value for our customers. I truly believe in added services; we want to simplify things for our customers as much as possible, says Susanne Lindquist.

Original Swedish language version of the interview
Susanne Lindquist ska driva lönsamhet för 7A
För nästan exakt ett år sedan tillträdde Susanne Lindquist som VD för 7A efter att ha jobbat som CFO på 7A sedan 2021. Susanne har en bakgrund inom ekonomi och en magisterexamen i ekonomi från Stockholms universitet. Hon har jobbat som revisor och konsult inom Ernst & Young i tio år innan hon kände för en ny utmaning i yrkeslivet och började arbeta som CFO på Transcendent Group som stod inför en tillväxtresa med mål att bli börsnoterade.
– Jag tror att det är det som genomsyrar mitt yrkesval, jag gillar utmaningen i tillväxtbolag. Det är spännande och kul att få vara med på en resa där ingen dag är den andra lik. Jag jobbade sju år på Transcendent Group som skulle växa i Europa med allt vad det innebar av juridik, ekonomi och att sätta strukturen. Det var superkul att få vara med på en sådan resa fram till en börsnotering.
Därefter valde Susanne att sluta på Transcendent Group och  konsultade en del som CFO fram till att hon fick erbjudandet om CFO-rollen på 7A. Susanne började på 7A mitt i  pandemin, en utmanande tid både generellt men också för 7A som verkar i en bransch som blev väldigt påverkad av pandemin.
–. Pandemin påverkade 7A väldigt hårt, primärt av två anledningar skulle jag säga. Den ena är att vi har en konferens produkt och det skiljer ju oss från många av våra kollegor i branschen. Där och då var konferens och event närmare 50 procent av verksamheten och vi fick i princip "näringsförbud" inom detta område. Vi hade en tydlig strategi redan innan pandemin, i samband med att SEB våra nya ägare kom in, att vi skulle växa verksamheten inom coworking. Pandemin bidrog till att vi växlade över än snabbare och omvandlade en del ytor som tidigare hade varit konferens till kontor. Den andra anledningen var att vi den 1 december 2019 satte nyckeln i Posthuset på Vasagatan där 17 000m² skulle hyras ut. Så pandemin har haft stor negativ effekt på det här bolaget.
När pandemin lagt sig kom ett väldigt starkt 2022 där 7A hade en omsättningsökning på 56%, samtidigt som resultatet förbättrades från -79msek till -57msek. Möjligheterna att öka omsättningen hade redan skapats och nu tog det fart. Branschen var mogen och behovet av kontor fanns helt plötsligt igen. Pandemin förde trots allt något gott med sig för coworkingbranschen, helt plötsligt var marknaden mogen och många företag och nya företag började se fördelarna med coworking. Anläggningarna började fyllas upp med hyresgäster och ett arbete för att nå lönsamhet påbörjades.
Läs yta.se's rapport om omsättningsökningen i coworkingbranschen 2021
– Planen nu är att vi ska nå lönsamhet under våren 2024 Det är ett pågående arbete där vi genomlyser hela verksamheten och ser över hur vi kan skapa en produkt som är attraktiv och relevant för våra kunder. Det här är ett arbete vi bedriver sedan förra hösten och jobbat väldigt hårt och dedikerat med. Vi har gått igenom allt från att se över organisationen, våra interna plattformar och processer och nu i våras har vi gjort ett arbete kring vårt varumärke och vår positionering. Vår vision att skapa en upplevelse utöver det förväntade för alla som kommer in på våra anläggningar ligger fast. Det är det alla som arbetar på 7A strävar efter att skapa varje dag. Vi ska komma ihåg att vi är en av de första aktörerna inom coworking i Stockholm och har med detta en stor kunskap och expertis inom vår bransch som vi fortsätter bygga vidare på.

Tyvärr blir inte 2023 året där 7A når lönsamhet men de är på god väg med en fortsatt tillväxt där break even är nära. Susanne räknar med en tillväxt på 25 procent 2023 så arbetet att nå lönsamhet till våren fortskrider. 7A är ett bolag som jobbar för tillväxt och det innebär såklart att fler anläggningar kommer att öppnas i närtid. Vi har sedan starten 2006 öppnat fyra anläggningar och aldrig stängt någon. Vår verksamhet bygger på långsiktiga relationer både kopplat till våra fastighetsägare och våra kunder.
– Alla våra anläggningar idag finns i city-lägen och även etableringen av nya anläggningar kommer vara i citylägen. Företagen som hyr in sig hos oss ska vara en attraktiv arbetsgivare som verkar på en attraktiv adress utifrån medarbetarnas behov av att enkelt kunna ta sig till jobbet. Detta är än mer viktigt idag när många jobbar hemifrån stora delar av tiden. City kommer alltid att vara attraktivt.
Flexibiliteten är nyckeln till framgång
Att vara flexibel och lyssna på sina kunders behov är en nyckelfaktor för att vara framgångsrik i denna bransch. Kunderna har idag helt nya behov av till exempel mötesrum och olika typer av sociala ytor och där jobbar 7A med anpassningar utifrån kundernas behov. En trend som syns tydligt är även att många företag hyr ett kontor med färre arbetsplatser än vad de har anställda just nu. Detta för att många inte är på kontoret samtidigt i och med det numera normaliserade hemmakontoret. Detta är ju just vad vi som coworkingaktör kan erbjuda.
– Vi vill kunna underlätta vardagen för företag och dess medarbetare. Här gäller det att lyssna på sina kunder och anpassa erbjudandet. Det skulle kunna vara allt från hundpassning, till att köpa med sig fredagsblomman men även att vi kan ordna med möten, större konferenser och privata fester. Vi tror mycket på att skapa samarbeten med relevanta aktörer som ger mervärde till våra kunder/hyresgäster. Det handlar idag inte enbart om att erbjuda ett kontor med arbetsplatser utan det finns så mycket mer att addera till detta.
Ett kvinnodominerat bolag
7A har alltid haft många kvinnor i ledningsgruppen och generellt inom hela bolaget. Det finns ingen uttalad strategi kring detta. Det har mer blivit så på grund av att serviceyrket är en kvinnodominerad bransch och många som jobbar inom coworking kommer ifrån hotell och konferensbranschen. Men ledningsgruppen domineras av kvinnor och det sitter även tre kvinnor i styrelsen.
– Det är fantastiskt att vi är så många kvinnor inom 7A men jag tror ändå på en balans. Det är superkul med drivna kvinnor och det är ju underbart att det för en gångs skull väger över på kvinnosidan i stället för tvärtom som det oftast gör.
7A jobbar även aktivt med miljö och hållbarhet. Miljöfrågan är något som deras kunder ställer höga krav på och fler är medvetna och vill veta vad miljöavtrycket blir som hyresgäst på 7A. Det är något som är högt på agendan och man strävar efter att göra sina coworking-anläggningar så hållbara som möjligt. Konferensdelen är Svanenmärkt och coworking-produkten är hållbar i sig i och med att man är många företag som delar på resurserna i anläggningarna. Men det är ett löpande arbete tillsammans med fastighetsägarna.
– Vi som aktör är en stor tillgång för fastighetsägarna då vi värnar om deras fastigheter,  vi gör mycket investeringar i deras fastighet och skapar ett värde för deras fastighet till skillnad från en "vanlig" hyresgäster som hyr i några år och sedan flyttar.
Adderade tjänster för att hitta lönsamhet
Coworking-branschen har historiskt sett haft en ganska låg lönsamhet med mycket förluster men där tror jag vi kommer se en förändring framåt. Många fastighetsägare startar sina egna coworking-anläggningar och det skapar en konkurrens som många av aktörerna ser positivt på. Marknaden för coworking utvecklas och produkten måste anpassas utifrån hyresgästernas/kundernas behov.
– Branschen har vuxit väldigt snabbt och alla har utmaningar med just lönsamhet. Vi gick igenom en pandemi och sedan det här året med hög inflation. Vi har haft många olika utmaningar de senaste åren men det är samtidigt en väldigt intressant bransch som fortsätter att växa.  Lönsamheten kommer från att du lyckas med att utveckla produkten där vi också adderar olika typer av relevanta kringtjänster som skapar ett värde för våra kunder. Jag tror verkligen på adderade tjänster, vi vill förenkla för våra kunder så mycket som möjligt, säger Susanne Lindquist.