Sweden
Spotlight: Emelie Mannheimer, United Spaces CEO

---
Swedish version of the interview at the end
There are many ways to approach coworking, and as the market grows, it becomes increasingly fragmented. Emelie Mannheimer, who took the helm as CEO of United Spaces in December 2022, is at the forefront of one of the more direct and active initiatives from the property owner's side, having been acquired in January 2019 for 200 million SEK. With strong backing from its parent organization, Castellum, one of Sweden's largest commercial property companies, United Spaces has established itself as a leading figure in the Swedish coworking sector.
"Castellum strengthens its value proposition as a property owner through United Spaces by offering a broader product range than its competitors," Emelie comments.
Emelie Mannheimer's journey to United Spaces is not the most conventional. After starting her career in law, she quickly realized it wasn't the right field for her. Almost by chance, she found herself in the PR industry, helping companies reach the media and articulate their messages. After nearly a decade in communication, including a significant stint as COO at the agency Springtime, she transitioned to the real estate world as the marketing director at Tengbom. At Tengbom, she managed to turn uncertainty into pride within the organization and secured a finalist spot for Marketing Director of the Year and later took on the role of COO.
What is an office? What makes a good workplace? What's the future of the office market? These were some of the most intriguing questions for Emelie during her time at Tengbom, sparking her interest in her new role at United Spaces.
"How smart of Castellum to acquire United Spaces; the real estate industry needs to move more towards hospitality and experience. On top of that, United Spaces is a very exciting brand as one of the first coworking operators in Sweden. The fantastic people working here also played a part," says Emelie Mannheimer, CEO of United Spaces, on why she took on the role.
When asked about her leadership style, Emelie responds that she brings a curious and forward-leaning approach to the table. Over the next hour, we discussed what this means for United Spaces, how to truly dive deep into creating a great workplace, and how to balance growth and profitability.
Strategic Expansion and its Challenges
United Spaces has been around since 1999 and currently has 11 facilities spanning 36,500 square meters across four cities. In November, they will open their 12th facility in another new city, Jönköping, solidifying their position as one of the largest operators in Sweden. Regarding strategic expansion, Emelie Mannheimer has a clear vision for United Spaces. She emphasizes the importance of understanding the company's members and their needs. "It's about creating value by making their workday better than they expected," she says. "If the industry is to grow from 5% to 30% of the office market, it's a given that coworking needs to establish itself outside of metropolitan areas," she concludes.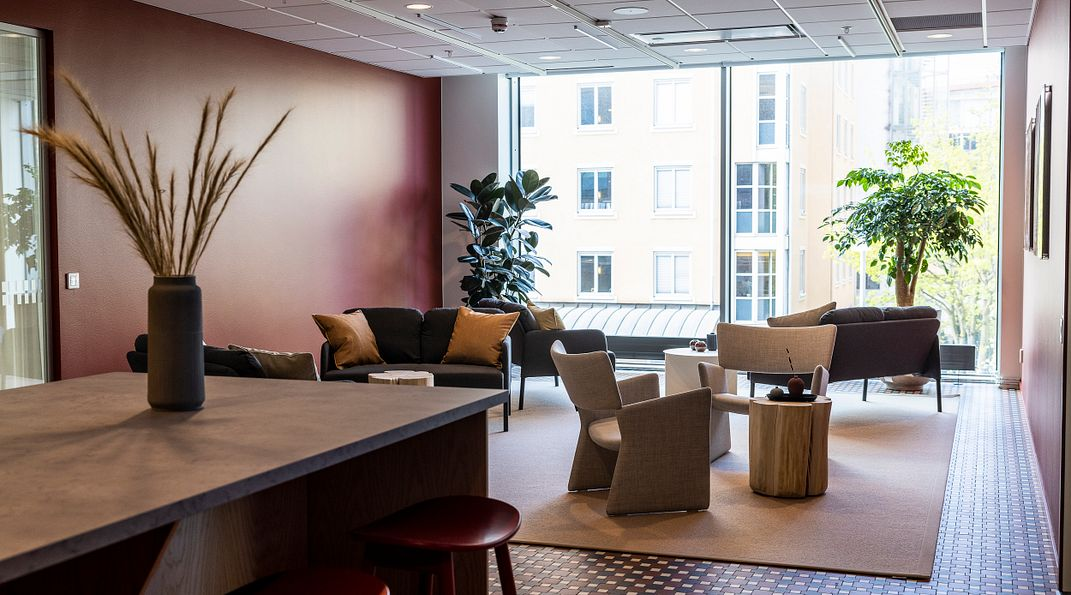 One of United Spaces' unique selling points is its geographical presence. With facilities in multiple cities, Emelie sees a clear advantage for members: the flexibility to work from different locations. "Our members appreciate that we are present in various cities. It gives them the opportunity to work from different facilities, no matter where they are," Emelie explains. However, expansion doesn't come without its challenges. Each new city has its market dynamics, and Emelie is aware that a tailored strategy is required for each location. "Even if Jönköping and Örebro might seem similar, they can have entirely different market conditions," she says.
Emelie also sees potential in smaller cities with a strong entrepreneurial spirit. "This spirit can be advantageous for us when considering expanding to these areas," she believes. Lastly, United Spaces has big plans for the future. "We plan to continue our expansion in Sweden, especially outside the major cities like Stockholm, Gothenburg, and Malmö," Emelie reveals. Emelie adds, "Expansion is not just about adding square meters. It's about adding value, creating new opportunities for our members, and building long-lasting relationships in each location."
From Coworking to Neurodesign: Creating the Optimal Work Environment
For Emelie Mannheimer, creating an optimal workplace is not just about aesthetics but also understanding the neurological aspects of the work environment. She emphasizes the importance of creating environments where people feel good and can be productive. This includes everything from having bird chirping in the restrooms to carefully considering color schemes and material choices. Emelie believes it's essential to stimulate all senses to create a work environment where people feel comfortable and motivated and that that is a core task for United Spaces to accomplish.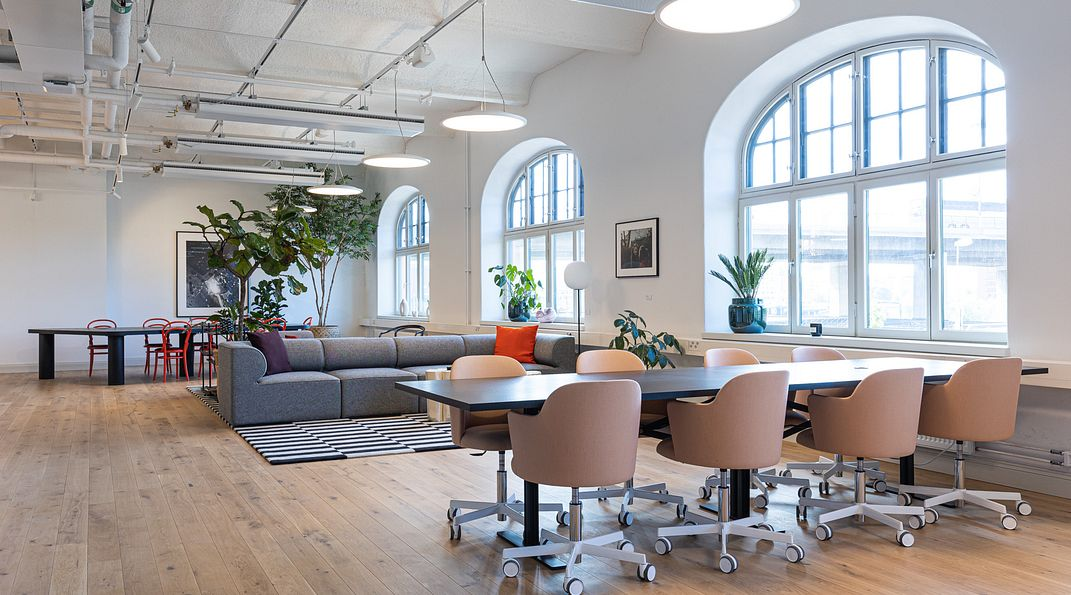 "Trying to create a cool and stylish product should not be at odds with considering the neurological aspects of creating a high-performing workplace," Emelie mentions. Additionally, the sustainability aspect is gaining more focus, but it also needs to be balanced with maintaining a functional and aesthetically pleasing workplace.
The Merger of Castellum and United Spaces: Being Stronger Together
"What United Spaces does together with Castellum is work on property development," Emelie begins, and it's a mutual benefit.
In a world where the use of property in society is changing and new needs arise, coworking becomes a key to offering tenants a comprehensive solution. How can we make properties more attractive as a whole by integrating flexible offices, service, and traditional space in the same building?
The collaboration between the subsidiary and parent company is fundamentally designed to broaden Castellum's portfolio of solutions for tenants. Conversely, thanks to their partnership with Castellum, United Spaces can benefit from an extensive portfolio of commercial properties. "It's not just assets," Emelie explains. "It's a fusion of knowledge, resources, and a shared vision. With Castellum by our side, we can think bigger, act faster, and realize our vision in ways that otherwise wouldn't be possible."
At Nordic Coworking, we find this constellation very interesting to follow, as it has the potential to guide other property owners and investors' perspectives on the market. If Castellum succeeds in making its properties more attractive by adding United Spaces to the mix, it will likely shake up how properties with coworking as a tenant are valued. When the property owner and coworking are the same owner, there's no longer an excuse for missing synergies in creating a property with a comprehensive offer.
On the other hand, Castellum, through United Spaces, has such good conditions to drive this experiment. If the investment fails or is not fully realized, the market's appetite for coworking will likely be affected accordingly.
United Spaces Now and Moving Forward
Emelie shares that the pandemic was a challenging period for the company, even as they heavily invested in expansion. High on her agenda is the balancing act of achieving profitability while still looking forward to expansion. In 2022, the company reported a loss of 47 million kronor. According to Emelie, the mature facilities are profitable, but the many new openings weigh down the results and will continue to do so.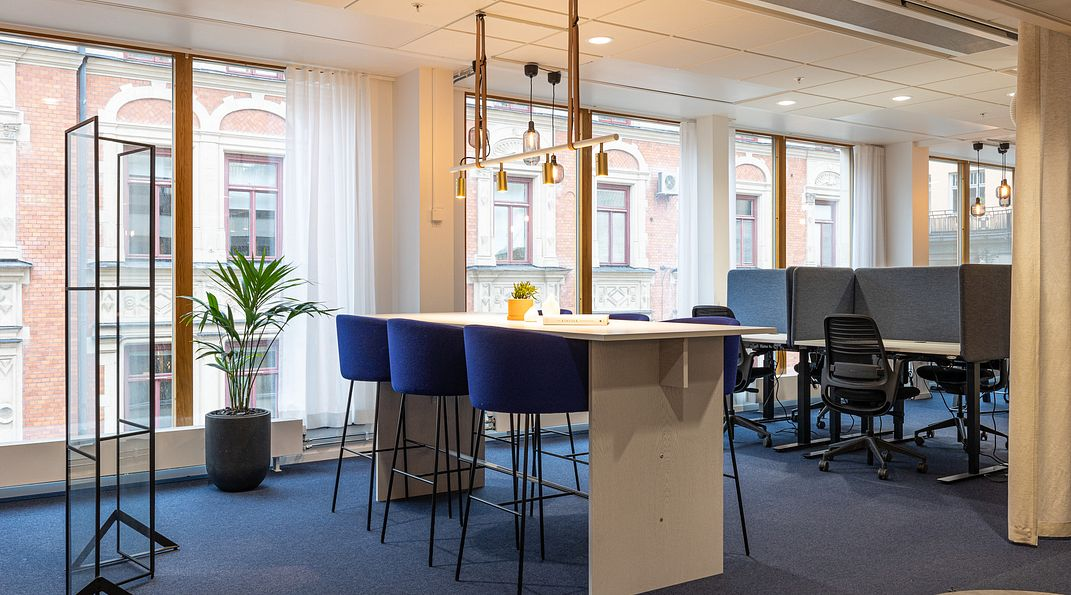 The goal moving forward is to reach profitability next year without losing sight of expansion. Discussions are ongoing with Castellum, which Emelie cannot go into detail about, but she also announces that there will not be massive expansion in the near future. The investment in Jönköping is essential, and even before opening, they have managed to make significant sales, making Emelie hopeful that they have hit the mark.
We look forward to following Emelie's journey at United Spaces - a company that has established a strong foothold in the premium segment of flexible offices. Time will tell if the merger with Castellum proves to be an asset in regards to moving quickly and, above all, efficiently establishing themselves in new markets. Emelie, who seems passionate about offices as a product, has the responsibility on her shoulders to prove to the industry that coworking can become a profitable business for property owners.
"It's like with cars - no one can be bothered to own a car anymore. I've tried, but I always go back to leasing because I can't be bothered," Emelie concludes with a laugh. We hope she's right, and that United Spaces can be the smooth office product that no one can quit.
Original Swedish language version of the interview
---
Det finns många sätt att driva coworking på och marknaden blir bara mer och mer fragmenterad desto mer den växer. Emelie Mannheimer, som tillträdde som VD för United Spaces i december 2022, sitter i förarsätet för en av de mer direkta och aktiva satsningarna från fastighetsägaresidan då de blev uppköpta i januari 2019 för 200msek. Med starkt stöd från sin moderorganisation, Castellum, ett av Sveriges största kommersiella fastighetsbolag, har United Spaces etablerat sig som en frontfigur inom coworking-sektorn i Sverige.
"Castellum stärker sitt värdeerbjudande som fastighetsägare genom United Spaces genom att få ett bredare produkterbjudande än sina konkurrenter" kommenterar Emelie.
Emelie Mannheimers väg till United Spaces är inte den mest konventionella. Efter att ha inlett sin karriär inom juridiken insåg hon snabbt att det inte var rätt område för henne. Istället genom nästintill en slump, fann hon sig själv i PR-branschen, där hon hjälpte företag att nå ut i media och formulera sina budskap. Efter nästan ett decennium inom kommunikation, inklusive en betydande tid som COO på byrån Springtime, knöt hon an till fastighetsvärlden genom rollen som marknadschef på Tengbom. På Tengbom hann hon med att vända osäkerhet till stolthet inom organisationen och kamma hem en finalistplats i årets marknadschef, och avslutade sin tid hos Tengbom innan bytet till United Spaces med att vara COO.
Vad är ett kontor? Vad är en bra arbetsplats? Vad är framtiden för kontorsmarknaden? Det är några av frågorna som var mest spännande för Emelie på sin tid hos Tengbom och som gav en gnista till hennes nya roll på United Spaces.
"Vad smarta Castellum är som köpte United Spaces, fastighetsbranschen behöver gå mer mot hospitality och upplevelse. Utöver det är United Spaces ett väldigt spännande varumärke som en av de första coworkingaktörerna i Sverige. Att sedan människorna som jobbade här är helt fantastiska skadade inte heller." - Emelie Mannheimer, VD på United Spaces, om varför hon tog sig an uppdraget som VD.
Till frågan vilken typ av ledare Emelie är, svarar Emelie att ett nyfiket och framåtlutat ledarskap är vad hon tar med sig till bordet. Under den kommande timmen pratade om vi vad detta innebär för United Spaces, hur man verkligen djupdyker i att skapa en bra arbetsplats, och hur man balanserar tillväxt och lönsamhet.
Strategisk Expansion och dess Utmaningar
United Spaces har funnits sedan 1999, och har idag 11st anläggningar över 36 500kvm i 4 städer. I november öppnar deras 12e anläggning i ytterligare en ny stad, Jönköping. Med detta är United Spaces helt klart en av de största aktörerna i Sverige.
När det kommer till strategisk expansion, har Emelie Mannheimer en tydlig vision för United Spaces. Hon betonar vikten av att förstå företagets medlemmar och deras behov. "Det handlar om att skapa värde genom att göra deras arbetsdag bättre än vad de förväntade sig," säger hon. "Ska branschen gå från 5 till 30% av kontorsmarknaden är det en självklarhet att coworking behöver etableras även utanför storstadsregionerna." avslutar hon.
En av United Spaces unika försäljningspunkter är just deras geografiska närvaro. Med anläggningar i flera städer ser Emelie en tydlig fördel för medlemmarna: flexibiliteten att kunna arbeta från olika platser. "Våra medlemmar uppskattar att vi finns i olika städer. Det ger dem möjligheten att arbeta från olika anläggningar, oavsett var de befinner sig," förklarar Emelie.
Men expansionen kommer inte utan sina utmaningar. Varje ny stad har sina egna marknadsdynamiker och Emelie är medveten om att det krävs en anpassad strategi för varje plats. "Även om Jönköping och Örebro kan verka lika, kan de ha helt olika marknadsförhållanden," säger hon.
Emelie ser också potential i mindre städer med stark entreprenörsanda. "Denna anda kan vara fördelaktig för oss när vi överväger att expandera till dessa områden," menar hon.
Slutligen har United Spaces stora planer för framtiden. "Vi planerar att fortsätta vår expansion i Sverige, särskilt utanför de större städerna som Stockholm, Göteborg och Malmö," avslöjar Emelie.
Emelie tillägger, "Expansion handlar inte bara om att lägga till kvadratmeter. Det handlar om att tillföra värde, skapa nya möjligheter för våra medlemmar och bygga långvariga relationer på varje ort."
Från Coworking till Neurodesign: Skapande av Optimal Arbetsmiljö
För Emelie Mannheimer är skapandet av en optimal arbetsplats inte bara en fråga om estetik, utan även om att förstå de neurologiska aspekterna av arbetsmiljön. Hon betonar vikten av att skapa miljöer där människor mår bra och kan vara produktiva. Detta innefattar allt från att ha fågelkvitter på toaletterna till att noggrant överväga färgsättning och materialval. Emelie tror att det är viktigt att stimulera alla sinnen för att skapa en arbetsmiljö där människor känner sig bekväma och motiverade.
"Att försöka skapa en cool och snygg produkt ska inte vara i motsättning mot att tänka på de neurologiska aspekterna av att skapa en presterande arbetsplats." nämner Emelie. Utöver det är hållbarhetsaspekten något som får alltmer fokus, men som även det behöver hamna i balans med att behålla en funktionell och estetiskt tilltalande arbetsplats.
Sammanslagningen av Castellum och United Spaces: att vara starkare tillsammans
"Det United Spaces gör tillsammans med Castellum är att jobba med fastighetsutveckling" börjar Emelie, och det är en ömsesidig nytta. I en värld där fastighetens användning i samhället förändras och nya behov uppstår blir coworking en nyckel i att erbjuda fastighetens hyresgäster ett helhetserbjudande. Hur kan vi skapa en attraktivare fastighet genom att kombinera olika erbjudanden och skapa en bättre helhet? Samarbetet mellan dotter- och moderbolag är i sin grund tänkt att bredda Castellums portfölj av lösningar till hyresgäster.
Samtidigt gäller det omvända, tack vare deras partnerskap med Castellum har United Spaces möjlighet att dra nytta av en omfattande portfölj av kommersiella fastigheter. "Det är inte bara tillgångar", förklarar Emelie. "Det är en sammansmältning av kunskap, resurser och en gemensam vision. Med Castellum vid vår sida kan vi tänka större, agera snabbare och realisera vår vision på ett sätt som annars inte skulle vara möjligt."
På Nordic Coworking tycker vi att ovan konstellation blir väldigt intressant att följa, då det har potential att vara vägledande för andra fastighetsägare och investerares perspektiv på marknaden. Lyckas Castellum med bravaden av att göra sina fastigheter mer attraktiva genom att addera United Spaces in i mixen, lär det skaka om hur fastigheter med coworking som hyresgäst värderas. När fastighetsägare och coworking är samma ägare finns det inte längre någon ursäkt för uteblivna synergier av att skapa en fastighet med ett helhetserbjudande. Å andra sidan har Castellum genom United Spaces så bra förutsättningar för att driva detta experiment, om satsningen skulle misslyckas eller inte drivas till sin fullo kommer marknadens aptit för coworking förmodligen påverkas därefter.
United Spaces nu och framåt
Emelie berättar att pandemin varit en tuff period för bolaget samtidigt som det satsades hårt på expansion. Högt upp på hennes agenda är balansakten av att nå lönsamhet men samtidigt blicka framåt mot expansion. 2022 så gjorde bolaget en förlust om 47 miljoner kronor.  De mogna anläggningarna är enligt Emelie lönsamma men de många nyöppningarna tynger resultaten och kommer även göra så framåt.
Målsättningen framåt är att nå svarta siffror under nästa år utan att tappa siktet på expansion. Det pågår dialoger med Castellum som Emelie inte kan gå in närmare på, men samtidigt tillkännager hon att det inte kommer bli någon massiv expansion i närtid. Satsningen på Jönköping är viktig och redan innan öppning har de lyckats sälja en hel del, vilket gör Emelie hoppful inför att de träffat rätt.
---
Vi ser fram emot att följa Emelies resa på United Spaces - ett bolag som etablerat ett starkt fäste i premiumsegmentet av flexibla kontor. Tiden får avgöra om sammanslagningen med Castellum visar sig vara en tillgång i form av att snabbt och framförallt effektivt kunna etablera sig på nya marknader. Emelie, som verkar brinna för produkten kontor, har ansvaret på sina axlar att bevisa för branschen att coworking kan bli en lönsam affär för fastighetsägarna.
"Det är som med bilar - ingen orkar äga en bil längre. Jag har försökt, men återgår alltid till leasing för jag orkar inte" avslutar Emelie med ett skratt. Vi får hoppas att hon har rätt och att United Spaces kan vara den smidiga kontorsprodukt som ingen orkar sluta med.